About Master Chuan
Feng Shui, Palmistry, Palm reading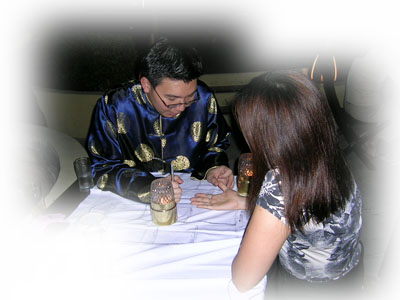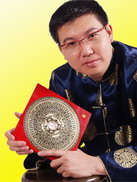 Master Chuan is a modern day Geomancer and Palmist who believes that the ancient arts of Feng Shui, Palmistry and the Four Pillar Analysis are practical solutions to solve our everyday challenges.
For more than 20 years, Master Chuan has read more than 10,000 people's lives and helped them discover their true self and potentials, point them to important life directions or even changed their lives.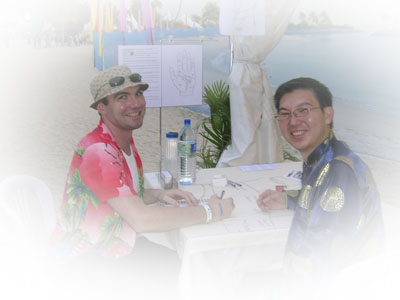 Master Chuan offers comprehensive readings and analysis for both individuals, corporate and other organisations.
Practical in his approach, Master Chuan draws on the proven wisdom of these ancient arts and relates them to today's challenges. And through simple real life illustrations and analogies, he connects easily with clients and quickly points them to the right solution.
Well-versed in areas of personal success, budgeting, financial control, health improvement, disease prevention, stress management, personal achievement, relationship management, Master Chuan provides customised recommendations that are easily implemented.
Master Chuan has also written many articles in various publications and conducted numerous workshops on Palmistry and Feng Shui for various distinguished organisations, both locally in Singapore and in other countries(Malaysia & Germany) .
Master Chuan is a Psychology graduate from the National University of Singapore (1997) and has a Master degree from De Monfort University, Leicester, UK ( 2001).
Credentials:
Qualifications
1999-2001: De Monfort University, Leicester, UK
Master of Science in Computing
1994-1997: National University of Singapore
Obtained Bachelor of Arts and Social Sciences; majoring in Psychology and Philosophy.
1990-1991: Nanyang Junior College
Obtained G.C.E. "A" Level under the Faculty of Commerce.
1985-1989: Chung Cheng High School (Main)
Obtained G.C.E. "O" Level
Work Experience
2007-08
Qbian Pte Ltd
Position held: Senior Project Manager

2005-06
EAM International Pte Ltd
Position held: Regional Operations Director

2001-2006
SingTel Mobile Pte Ltd
Position held: Senior Product Specialist

1999-2001
CSA Automated Pte Ltd
Position held: System Engineer

1998-1999
Ray Wilson California Fitness Centers
Position held: Counsellor

1998-1998
Australia Institute of Training (TAFE)
Position held: Part Time Lecturer

1997-1998
Teambuild Construction Pte Ltd
Position held: Management Executive

---
An Introduction to Palmistry / palmist / palm reader / palm reading
When we open up our palms, we can see that there are many lines and creases in our palms. Many will always ask what are the meanings behind these lines and creases. After practising palmistry / palmist / palm reader / palm reading for more than 15 years, I can tell you that these lines can reveal al lot more about you than you can imagine.
palmistry / palmist / palm reader / palm reading is an art that dates back to many thousands of year ago. In the olden days palmistry / palmist / palm reader / palm reading was used as a form of divination to tell about the past and future of a person. However, in our modern society that is driven by science and practicality, telling about the past and future can be something that is viewed as too superstition. Thus many palmist or palm reader has turned this form of art into a more scientific approach towards reading the human psychology.
When you look at your own palms, reading you can undeniably see a lot of difference between your palms and your friends' palms. If you can do some measurement, you will also find some difference in the shapes and sizes of your palm from your friends'. Your fingers may be longer or shorter, reading your palm may be longer or shorter, your lines can start from different points or end in different points. It is with all these differences reading that we tell the differences in the personality from a person to another.
What is palmistry reading / palmist / palm reader?
In simple terms, palmistry / palmist reading / palm reader / palm reading refers to the study of the hands¡¦ reading shapes and sizes and the study of the lines and creases. By studying the hand, we can use it to determine the personality reading of a person and with the interpretation of the markings and signs, we can also ¡§foretell¡¨ (more on this topic later) the future of a person. Logically, when we can foretell the future, we would also be able to tell about the past of a person.
Some common names for this divination method are reading:
reading Chiromancy or Cheiromancy (The study of the lines and creases in the hands)
reading Chirognomy or Cheirognomy (The study of the hands and shapes)
reading Dermatoglyphics (The study of the prints and ridges, or finger prints in the hands)
reading Palm Reading
reading Hand Analysis
reading Palmistry / palmist/ palm reading
reading Basic principles of palmistry / palmist / palm reader / palm reading
reading When we look at a palm, we will need to look at it from many perspectives, first we will need to determine the basic shapes of the palm, then the fingers, then the thumb. reading We will next need to compare the length and shapes of the palm and the fingers with one another. Different features of the hands would have different meanings associated to it. At the same time, we will look at the starting and ending points of the main and secondary lines in the palm. Then we will determine if there are any unique signs and shapes formed by the lines. These lines will also have different meanings associated to it.
reading We will need to study the other features of the palm like the colour, the touch, the fingernails, the feel, the temperature, etc. All these are the things that we will need to analyse when doing a palm reading.
reading History of palmistry / palm reader / palm reading
reading palmistry / palmist / palm reader / palm reading is a form of divination that has been thought to be originated from various sources. One of the most common believe is that it came from India and slowly spread across China, Greece, Europe and some other Asian countries. For a more comprehensive description of the history of palmistry / palmist / palm reader, you may want to search for ¡§palmistry / palmist / palm reader¡¨ or "palm reading" in Wikipedia.
In the west, palmistry / palmist / palm reader / palm reading was popularised by Count Louis Hamon (1866-1936). He is commonly known as Cheiro. Cheiro wrote many books on palmistry palmistry / palmist / palm reader / palm reading and recorded many of his experience in these books. If you are really serious in learning palmistry / palm reader, then it will be good if you can find the reprints of his books on palmistry / palmist reading / palm reader. Though there are not many of them, palmistry but they are very good books to start with on palmistry / palmist reading / palm reader / palm reading palmistry palmistry
In summary, Cheiro learned palmistry / palmist / palm reader / palm reading directly in India and brought the knowledge with him to the west. He was commonly consulted by the people of the media (famous movie stars and singers) and thus that gave a lot of publicity to his abilities. palmistry He also wrote many books on palmistry / palmist / palm reader / palm reading and other topics and recorded much of his experiences. palmistry However, if you were to be able to find the original prints of these books, you will find that they are not too fun to read and some of the words he used are really too complex for the commoners like you and me. If you really want to go deeper into palmistry / palmist / palm reader / palm reading, palmistry then reading his book will often give you different perspective and ideas on palmistry / palmist / palm reader / palm reading.
The advantages of palmistry / palm reader / palm reading
One good thing about palmistry / palmist / palm reader / palm reading is that it allows you to assess a person's personality in a very short time. palmistry In palmistry / palmist / palm reader, no complex calculations is needed like those of astrology. At the same time, you will not need that person to tell you anything about their birth date and time. palmistry In certain countries, such information are either wrongly recorded or translated wrongly due to the different types of calendar calculations used. palmistry The palm would be a very good guide in revealing the personality and tendencies in these cases.
In our everyday lives, we can easily get to a glance on other peoples palm most of the time. By knowing palmistry / palmist / palm reader, you can quickly and accurately make an assessment on how the personality of that person is and from there, you may also strategise on how you want to deal with this person in the future. palmistry
The other advantage of palmistry / palm reader / palm reading as compared palmistry to other form of divination method is that palmistry / palmist / palm reader / palm reading is easy to learn and easy palmistry to apply. At the same time, unlike Face Reading Analysis, there are very few people who will alter their palms for cosmetic reasons. Thus palmistry / palmist / palm reader / palm reading is one of the most accurate way of getting an updated reading of a person¡¦s personality.
Palmistry / palmist / palm reader / palm reading Courses
When I conduct palm reading for many of my clients, they often asked me to teach them more about palmistry / palmist / palm readerg. Thus with great demand, I have started to conduct palmistry / palmist / palm reader / palm reading courses since 2004. So far I have already conducted palmistry / palmist / palm reader / palm reading courses for more than 45 students. Personally I believe that palmistry / palmist / palm reader / palm reading is not a topic that you can just spend 30 minutes reading a book and suddenly be an expert in this field. palmistry / palmist / palm reader / palm reading is some thing that requires time to practice and the more palms you read, the better you become. palmistry
When I conduct my palmistry / palmist / palm reading course, I always try to impart as much of my knowledge to the students as possible. As long as you can ask and as long as I know the answer, I will answer you. Currently there are two levels for my palmistry / palmist / palm reader / palm reading course, namely, Introduction to palmistry / palmist / palm reader / palm reading and Intermediate palmistry / palmist / palm reader / palm reading.
In the ¡§Introduction to palmistry / palmist / palm reader¡¨, you will get to learn the following after attending the course: - Understand the common jargons of palmistry / palm reader / palm reading
- Understand the meaning of each portion of the palms, palmistry
- Understand the meaning and variations of the Main lines for palmistry / palmist / palm reader / palm reading
- Understand the meaning and variations of the Secondary lines for palmistry / palmist / palm reader / palm reading
- How to conduct a proper palm reading for others palmistry
- How to give advise to others in regards to certain markings and signs palmistry
- Most importantly, you will learn how to deduce those signs that you have never learned before from the basic principles taught in the palmistry / palmist / palm reader / palm reading course. palmistry
You can see more details of the course by checking out my course outline. palmistry
In the ¡§Intermediate palmistry / palmist / palm reader¡¨, you will get to learn the following after attending the course:
- Understanding more details about each mount in the hand
- Understanding the location for other health signs
- Understanding the colours of the palms and their meanings palmistry
- Other accurate signs in the hands palmistry
- Sample palm reading of real hands and analysis palmistry